MiGi Sweet Sunshine Bedding Set
A sophisticated neutral palette distinguished the Migi Sweet Sunshine Baby Bedding Set, with yellows and grays that will keep your little one's room sunny and bright. Suede, corduroy and plush fabrics decorate the comforter and bumper, and baby will sleep well on the printed cotton sheet. Embroidery appliqués also adorn the bumper and crib skirt, giving the collection an impeccably detailed finishing touch. Set includes comforter, bumper, crib skirt and crib sheet. Designed by the MiGi girls (who are also founders of Momologie.com), Michele Adams and Gia Russo.


Please note that fabric swatches are not available for this product.


*All pictures on this website are for display only. Please follow safe bedding practices per product warning label on each item.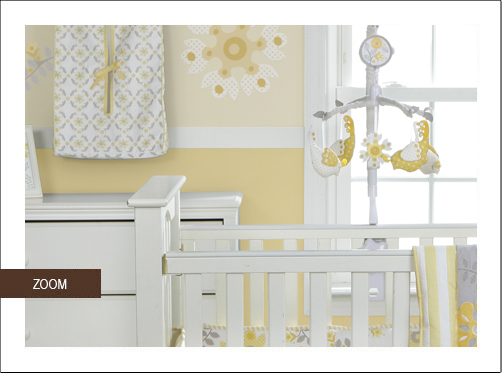 Deprecated: Function ereg_replace() is deprecated in /home/bananafi/public_html/prodpg.php on line 278